For clean hair and a thoroughly cleansed scalp
For clean hair and a thoroughly cleansed scalp Leaves the hair feeling thoroughly cleansed

Reduces excess sebum and gently cleanses

Surfactants that are very gentle on the scalp

Fresh fragrance and pleasant lather

Biodegradable formula

Eco-friendly tube made from PE of vegetable origin
It is important to look after your hair, regardless of hair type. Greasy hair is caused by excessive sebum secreted by the sebaceous glands. This penetrates the base of the hair and then travels along the hair shaft by a capillary action. Environmental dust and scalp "debris" stick to the hair which then becomes dirty. The scalp may also become itchy.
The PURIFYING SHAMPOO cleanses the scalp, and cleans and purifies the hair. It contains a trio of plant-based active ingredients that target greasy hair :
Burdock extract with a purifying action that removes impurities from the scalp
A stinging nettle extract for its purifying properties and to boost the cleansing properties of the shampoo
A jujube extract which regulates sebum secretion
The scalp is rebalanced, the hair gets greasy less quickly and itching is reduced. Thanks to its mild formula that contains no aggressive surfactant, the shampoo is gentle on your hair and scalp.
Its pleasant, foaming, easy-to-apply texture leaves the hair freshly fragranced and brimming with vitality.
It is also environmentally friendly thanks to the tube made from PE of plant origin and its biodegradable formula.
How does our hair get greasy?
Greasy hair is caused by excessive sebaceous gland activity. An increased quantity of sebum is secreted. This penetrates the scalp and the base of the hair and travels along the hair shaft by a capillary action. The keratinous debris from the scalp and environmental dust stick to the sebum. The hair becomes greasy and can also cause itching.
In addition to this, the environment promotes the development of micro-organisms and the onset of greasy dandruff. Excess sebum blocks the sebaceous glands and suffocates the hair follicle, stunting hair growth.
It is important to use a suitable and long-acting shampoo to rebalance the scalp.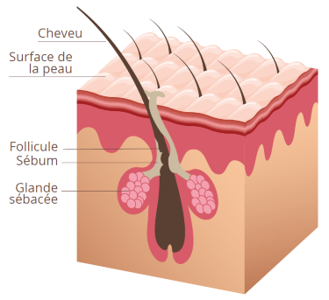 What is PE of plant origin?
PE of plant origin, also known as biosourced plastic, is produced from ethanol obtained from sugar cane. It has the same protective and preservative properties as conventional PE but the manufacturing process is far more environmentally friendly.
Once harvested, the sugar cane is ground to obtain the sugar which is then fermented and distilled to produce ethanol.
This ethanol is dehydrated to create ethylene, which is then polymerised to produce polyethylene, a 100% plant-based plastic.

Apply to damp hair, massage in and then rinse off. Rinse immediately with large quantities of water if the product comes into contact with the eyes
Avoid contact with the eyes.
Not recommended for children under 3 years of age.